Free Shipping & Returns | Save Upto 25% Off
Featured Products

New Products

AESTHETIC ARMOUR GIFT CARD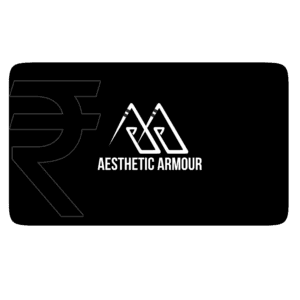 If you're shopping for someone who loves fitness and style, an Aesthetic Armour Gift Card is the perfect choice. Our gift cards are delivered directly to your inbox and are easy to redeem at checkout. No additional processing fees and no stress – just the gift of choice for the fitness lover in your life.
With Aesthetic Armour Gift Cards, your loved ones can choose from a wide range of stylish and high-quality fitness wear. Whether they're looking for workout clothes or activewear they'll find what they need at Aesthetic Armour. And, with your gift card, they'll be able to enjoy the best of both worlds – style and performance.
So, why wait? Give the gift of choice today and watch your loved ones smile with delight as they shop for their favorite fitness gear. Purchase an Aesthetic Armour Gift Card now and make a difference in someone's life.
sign up for exciting offers!
Make sure you don't miss interesting happenings by joining our newsletter program
I'm so glad I found Aesthetic Armour! The quality of their products is top-notch, and their prices are unbeatable. I've been using their gym wear for months now, and it still looks as good as new. I highly recommend this brand to anyone looking for premium sports apparel without breaking the bank.
Aesthetic Armour is the best sports apparel brand out there! Their products are stylish, comfortable, and functional. I love their range of gym wear. I've recommended this brand to all my friends, and they've all been happy with their purchases.
I was skeptical about buying sports apparel online, but Aesthetic Armour exceeded my expectations. The quality of their products is amazing, and they fit me perfectly. The website is user-friendly, and the checkout process was a breeze. I'm impressed with this brand and will be a customer for life.